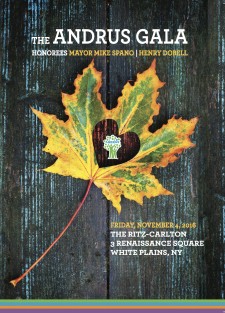 Yonkers, NY, October 21, 2016 (Newswire.com) - ​​The annual ANDRUS Gala is being hosted Friday, November 4 at the Ritz-Carlton in White Plains NY. Cocktails begin at 6pm with a benefit dinner to follow. This year the gala honors Yonkers Mayor Mike Spano and ANDRUS alum Henry Dobell.
Mayor Mike Spano, a lifelong Yonkers resident, husband, father of three, and former State Assembly Member, has dedicated his life to standing up for Yonkers families. Since taking office as Yonkers' chief executive in 2012, Mayor Spano has lead Yonkers' revitalization with innovative new projects that are transforming Yonkers' growing waterfront, attracting new businesses, tech companies and the arts, and creating hundreds of new jobs across the city. Mayor Spano is committed to securing a strong financial future for Yonkers by building upon its greatest strengths – its location, its history, its pride and its people.
With Henry Dobell, what you see is not what you get. Though obviously a passionate adventurist, musician and lay scientist, hidden is his capacity for empathy and deep concern that the weakest among us be treated equally. Henry's life long struggle with mental illness has lead him to advocate for how the "Flow State" can keep people healthy and positive. Henry attended the Orchard School from 2003-8. ANDRUS taught him the life skills that have allowed him to thrive.
Sponsors include but are not limited to: Jenny & Dave Dobell, Titan Advisors, Blackstone Heating & Air Conditioning, Michael Pellegrini Construction Management, Carmelo Apollonio, Brooke & Ed Garden, BDO USA, LLP, Sterling National Bank, ChemRX, and Goosetown Communications.
About ANDRUS
ANDRUS nurtures the social and emotional well-being in children and their families by delivering a broad range of vital services and by providing research, training and innovative program models that promote standards of excellence for professional performance in and beyond our service community.
With programs on campus, in schools and within community-based settings throughout Westchester County, the nonprofit reaches almost 4,500 children and families each year from the New York Metropolitan area. ANDRUS also operates the Andrus Center for Learning and Innovation (ACLI) and the ANDRUS Sanctuary Institute, which has provided training and consultation to over 350 organizations worldwide in the use of a trauma-sensitive model for treatment and organizational change. Visit www.Andrus1928.org to learn more.
FOR MORE INFORMATION
Peter Sobel
​(914) 965-3700 ext. 1319; PSobel@jdam.org
Source: ANDRUS
Share: